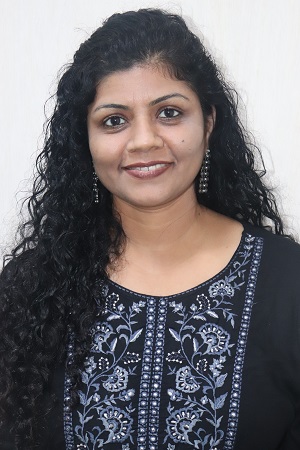 Shilpa Alshi
Assistant Professor
Specialization (Qualification):
M Com, CA, SET, Ph. D.(Pursuing)
Areas of Specialization:
Accounts & Finance
Interest Areas:
Audit, Accounting Standards, Financial Management
Experience:
Academic Experience: More than 13 years of teaching experience in post graduate and undergraduate programs.
Industry Experience: Worked as an Executive Officer at the Institute of Chartered Accountants of India, Mumbai
Worked as an Officer (Grade B) at the Saraswat Co-operative Bank Ltd., Vashi Branch. "
Research:
Pursuing Ph. D. in the area of Financial Reporting
Publications:
Paper Published on 'Expected Credit Loss (ECL) As Per Ind-As 109, A Challenge for The Financial Reporting for NBFCs in the Covid Era' in Vidyabharati International Interdisciplinary Research Journal -In the Special Issue-on 'Recent Research Trends in Management, Science and Technology'-In Oct 2021
Publications and Research papers presented:
Paper presented on 'Study of critical success factors and failure factors of Small and Medium Enterprises (SMEs) in India' at a National Conference on 'Management and Technology: Emerging Trends and Perspective' conducted by YMT College of Management, Kharghar, Navi Mumbai on 4th Apr 2012 (Paper published in ISBN publication)
Conferences / Workshops / Seminars attended/ Certifications:
Induction/Orientation Programme- Completed the 4-week online Induction Training/ Orientation Programme for Faculty in Universities/ Colleges/ Institutes of Higher Education Organised By Teaching Learning Centre & Research Development and Services Cell of Ramanujan College under the Ministry of HRD, Government of India, Pandit Madanmohan Malviya National Mission on Teachers in June- July 2020
Faculty Development Programmes/Workshops on Research Methodology-
Completed 1-week Capacity Building Program on Research Methodology organised by Western Regional Centre, Indian Council of Social Science Research (ICSSR) in association with Department of Commerce University of Mumbai- May 2021
Completed 1-week Faculty Development Programme on Research Methodology Organised by Department of Business Management, Pillai's College jointly with Ph D Research Centre in association with Millennium University, Malawi, South Africa. May-June 2021
Completed 1-week Faculty Development Programme on Productive Thinking in Research Methodology with Special reference to E-Commerce Organised by Department of Commerce, University of Mumbai and Mulund College of Commerce, Mumbai (IQAC)-May 2020
Domain Specific Faculty Development Programmes-
Participated in Faculty Development Program on GST & Students' employability in Dec 2016 organized by The Department of Commerce, University of Mumbai jointly with ICA
Participated in Faculty Development Program on IFRS in Dec 2015 organized by University of Mumbai jointly with Sydenham Institute of Management Studies (SIMSREE) and ACCA
Trainings-
Completed CRISIL Executive Training Programme on Implications of Ind AS on Banks and NBFCs - March 2020
Coursera MOOCs –
Successfully Completed the following Coursera MOOCs-
Learning to Teach Online-
Performance Evaluation in Virtual Classroom
Academic activities:
Awards:
Management Development Programs:
Professional Memberships:
Associate Member of the Institute of Chartered Accountants of India (ICAI)
Editorial Board Membership:
Official Email Id:
shilpa.alshi@nmims.edu
Office Phone No:
91-022-42355530