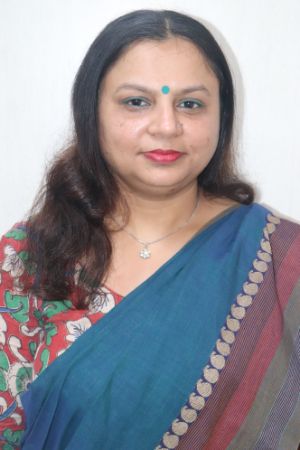 Richa K. Saxena
Assistant Professor
Specialization (Qualification):
PGDBM (Marketing), M.Sc. (Mathematics), NET (Management)
Areas of Specialization:
Marketing & Operations
Interest Areas:
Marketing, Operations Research, Research Methodology
Experience:
More than 15 years of teaching experience in Management, Marketing and Mathematics at Undergraduate and Post –graduate level.
Was Co-ordinator and HOD of BMS Department at SVKM's Narsee Monjee College of Commerce & Economics, Mumbai and HOD of Mathematics Department at Dayanand Girls College, Kanpur.
Held important positions at SVKM's Narsee Monjee College of Commerce & Economics, Mumbai as Nominated member of Local Managing Committee (LMC), Convenor of Business Plan Competition organizing committee & Convenor of Student Journal Committee.
Also functioned as a Panel Member for interviewing candidates for Self – financed courses of BMS, BFM and BAF.
Functioned as a Chairperson for the revision of syllabus of the subjects of BMS at University of Mumbai.
Research:
"Effectiveness of Internet Advertising:
Shodhaditya, Proceedings of International Conference organized by Aditya Institute of Management Studies and Research, October 2014
Retail Service Gap Analysis:
Effects of Globalization on India's Service Sector – Opportunities & Challenges: Proceedings of National Conference organized by N M College February 2012"
Publications:
https://scholar.google.com/citations?user=Fqt_qqYAAAAJ&hl=en
Publications and Research papers presented:
Presented paper on "Content Wars for Excellence in Online Streaming Platforms in India: Comparitive Analysis of Netflix and Amazon Prime Video"in Online International Multidisciplinary Conference on 'Education, Employability and Excellence: The New Normal and Beyond' , organised by Valia College, held on 22nd May, 2021.
Conferences / Workshops / Seminars attended/ Certifications:
"Attended a two day workshop on ""Use of SPSS in Research Methodology for Social Sciences" at Rizvi College, Mumbai
Attended four day Faculty Development Programme at ICICI e-learning centre"
Academic activities:
Publishing a blog www.richaprof@blogspot.com
Awards:
The research paper presented as mentioned earlier won the best paper Award
Management Development Programs:
Professional Memberships:
Editorial Board Membership:
Official Email Id:
richa.saxena@nmims.edu
Office Phone No:
022 423 35743