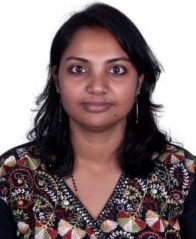 Dr. Jyoti Parimal Sarkar
Assistant Professor


Areas of Specialization: Migration, Development Economics


Specialization (Qualification):
Ph.D. (Economics)-Jawaharlal Nehru University, New Delhi.
UGC-NET
M.Phil. (Applied Economics)-Centre for Development Studies affiliated to J.NU., Trivandrum.
M.A. (Economics) - Jawaharlal Nehru University, New Delhi.
Areas of Specialization: Migration, Development Economics
Interest Areas: Migration, Development Economics, Macroeconomics, Central Banking
Experience: More than 6 Years of teaching at UG & PG level.
Worked as an Assistant Professor of Economics and Coordinator of Bachelor of Commerce (Banking and Insurance) at Sadhana Education Society's L.S. Raheja College of Arts & Commerce, Santacruz West, Mumbai from 2017 to 2022.
Worked as an Assistant Professor of Economics at Thakur College of Science and Commerce, Kandivili East, Mumbai from 2015 to 2016.
Worked as Assistant Professor cum Research Associate at Durgadevi Saraf Institute of Management Studies, Malad West, Mumbai in 2015.
Research:
Research papers presented:
2021—Presented a paper "Emerging Trends of In-migration in West Bengal" in DGSI International Geography Online Conference (September 10-12, 2021).
2021—Presented a paper "Regional Disparity in West Bengal: An Inter-District Analysis" in IGS International E Conference (August 5-7, 2021).
Conferences / Workshops / Seminars attended:
Participated in webinar on "Extension Work Training Programme", DLLE Unit, K.J. Somaiya College of Science & Commerce, 10 January 2022.
Participated in One Day online Workshop on "Social Entrepreneurship, Swachhta & Rural Engagement" for Higher Educational Institutions in Association with Mahatma Gandhi National Council of Rural Education on 29 September 2020.
Attended 'Econometrics for Research Workshop' conducted by Goa University during February 9-11, 2019.
Academic activities:
Participated in 2-weeks Capacity Building Programme on " Issues, Challenges and Prospects of Indian Economy" organised by Institute for Studies in Industrial Development (ISID), New Delhi sponsored by ICSSR, Ministry of Education, Government of India from 16th February to 1st March 2022.
Senior Research Fellow at the International Institute of Migration and Development (IIMAD), Trivandrum.
Research Chairperson in the track of 'Economics and International Business', One-Day Multi-disciplinary International E-Conference "Innovation and Sustainability Revitalising Business Practices through Quality assurance and Inclusivity" Organised by Department of Commerce, Thakur College of Science & Commerce in association with NAAC and ICSSR on 18th February, 2022.
Completed a course on 'Foundations of Central Bank Law' with a high grade conducted by Institute for Capacity Development, International Monetary Fund during April-June 2020.
Worked as Project Assistant in Kolkata on a project "Governance of Labour Migration in India" undertaken by the Centre for Development Studies, Trivandrum and Ministry of Overseas Affairs, 2007.
Awards:
2018-19 to 2021-22—Have received honorium as Extension Work Teacher from the Department of Live-Long Extension, University of Mumbai.
Official Email Id:jyotiparimal.sarkar@nmims.edu
Office Phone No: 022-42355884