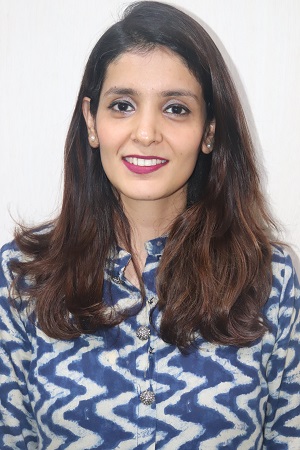 Dr. Charu Bhurat
Assistant Professor
Specialization (Qualification):
B.A. (Hons.) Economics, M.M.S (Finance), M.A (Economics), Ph.D, UGC-NET
Areas of Specialization:
Economics and Finance
Interest Areas:
Micro Economics, Macro Economics
Experience:
"Teaching Experience: 7 Years
Mithibai College (2012-2017): Assistant Professor in B.Com (Banking & Insurance) ,B.Com (Accounting & Finance) and Bachelor of Management Studies Department
Usha Pravin Gandhi College of Arts, Science and Commerce (2017-2019): Visiting faculty with the Department of Bachelor of Management Studies (BMS), Bachelor of Mass Media (BMM) and M.Com"
Research:
Publications:
Publications and Research papers presented:
"2019- BRICS Nations And Financial Inclusion: A Comparative Study Of The BRICS Nations Using Various Financial Inclusion Indicators, 45th International Academic Conference, International Institute of Social and Economic Sciences, London, UK, ISBN 978-80-87927-46-5
2019- Recent Trends In India's Balance Of Payments: An Analysis Of Visible And Invisible Trade, Indo Global Chamber Of Commerce, Industries and Agriculture, UGC listed e-ISSN Journal(2394-7780)
2016- Institutional Social Responsibility (ISR)-Case study of SVKM's Mithibai College in Interdisciplinary seminar organized by Ramanand Arya D.A.V.College; ISSN No.: 2231-5063, Impact factor: 3.4052
2014- South Asia: A comparative study of demographics and economic conditions, International Conference, Jai Narain Vyas University, Jodhpur
2014- Mahatma Gandhi as a model of servant leadership in the Indian Journal of Political Studies Vol. XVIII; ISSN No: 0251-303x"
Conferences / Workshops / Seminars attended/ Certifications:
Conferences / Workshops / Seminars attended:
11
Academic activities:
Appointed as a Resource person for subject of Business Economics-I in Thakur College, Kandivali and Changu Kana Thakur College, New Panvel in 2017
Awards:
Management Development Programs:
Professional Memberships:
Editorial Board Membership:
Official Email Id:
charu.bhurat@nmims.edu
Office Phone No: