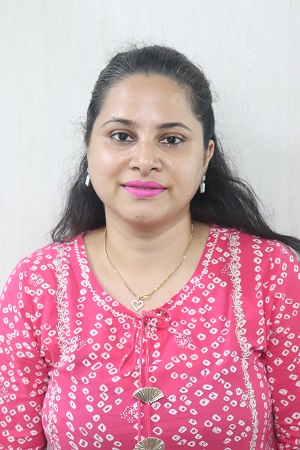 Tejaswini Angre
"Assistant Professor"
Specialization (Qualification):
B.Sc. (Statistics), M.Sc. (Statistics)
Areas of Specialization:
Statistics
Interest Areas:
Mathematics, Statistics, Operations Research
Experience:
4 years of teaching experience in Mathematics and Statistics for undergraduate I.T. and Computer Science students Valia Chhaganlal Laljibahai College Of Commerce
4 years of experience in Operations Research to the final year undergraduate students of B.M.S.
Research:
Publications:
Publications and Research papers presented:
"Employment opportunities through transportation'' presented in national conference and was published in an International Scholarly Research Journal for Interdisciplinary Studies with Impact factor 5.403
"Trending Nutritional Business in Today's Networked World'' presented in International conference on Research in Business (ICRB 2017) and was published in International Journal of Research in Business Studies."
Conferences / Workshops / Seminars attended/ Certifications:
Attended 2 days' workshop on Mathematical and Statistical Techniques organized by "SANKHYIKI" on 1st and 2nd December 2007 where I actively participated in Project Presentation.
Academic activities:
Many research papers were published by my students in almost every year. Students are always encouraged to mostly do the publications in the international journals and also national journals. Recently a paper mentioned above was published by me and my students.
Awards:
Participation Certificate offered in Hackathon at Business Analytics and data Mining Championship, 2019.
Management Development Programs:
Many Faculty Development Programmes attended and also certified for two Coursera Courses. 1. Learning to teach online and 2. Assessment for Learning
Professional Memberships:
Editorial Board Membership:
Official Email Id:
tejaswini.angre@nmims.edu
Office Phone No:
91 - 022 - 4235 5761