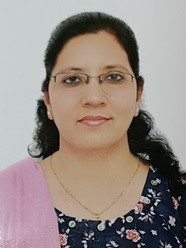 Dr. Nishrin Pathan
Associate Professor (Business Communication)

PhD (Management), PhD (English), MBA (HR), MPhil (English), MA (ELT), BA, TESOL (Arizona State University)




Areas of Specialization: Business Communication, Commercial Correspondence, Soft Skills
Interest Areas: Business Communication, ICT in Business, Communication for E-Business, Managerial & Corporate Communication, Academic Writing, Soft Skills, Communication for Employment
Experience: 24 Years of Teaching and Training experience in Functional English, Business Communication, Reading & Writing Skills, Business Etiquettes and Professional communication
Publications:
Books:
ICT for Small Businesses: Brick Publications India. February 2019
ISBN: 978-81-940241-2-5
Textbook on English & Business Communication
FY BCOM, Sardar Patel University, June 2019
ISBN: 978-93-81386-68-2
COMMUNICARE; Brick Publications India. July 2019
ISBN: 978-81-942754-0-4
Book Chapters:
A Chapter on 'Women's Predicament and Quest for Self Identity: A perspective in Lyrical Novels of K. Hosseini, M. Ondaatje and Vikram Seth' in Edited book Titled 'Women Empower & Inclusive Growth', Sarth Publication, March 2020. ISBN - 978-93-89-779-41-7
Research Papers:
A study in Narrative Technique of Interior Monologue in Khaled Hosseini's lyrical novel, A Thousand Splendid Suns, published in UGC CARE listed Journal, Dialog, Dept. of English & Cultural Studies, Panjab University, Chandigarh. May 2020. ISSN – 0975-4881.
Research papers presented:
Presented paper on 'No Land on Earth to Stand: An account of Rohingya Crisis based on Mumtaz Moosa Saley's 'The Sold Dream' and 'Trail of Fears' by Richard Humphries' at International Graduate Conference on Art & Literature in Conflict Zones from India, Spain & Latin America, organised by the CSPILAS/SLL&CS/JNU on the 26th and the 27th of October, 2021
Conferences / Workshops / Seminars attended:
Workshop on Creativity, Problem Solving and Innovation organized by CHARUSAT September 2019.
Academic activities:
Facilitating academic ambience by working in various capacities such as Member- Board of Studies, Member- IQAC – NAAC, Editor – Institutional E-Newsletter, Coordinator- Student Magazine, Student Mentoring, Coordinating Literary Activities and domestic and International Educational Tours.
Faculty Development Programs:
Annual Refresher Programme in English Language Teaching, SWAYAM –MHRD and Gujarat University, February 2020
FDP on Professional and Communicative English by Dept. of English, Bharathiar University, Coimbatore. June 2021
AICTE sponsored two-week FDP Phase –III on Effective Teaching Learning towards Outcome Based Education organized by dept. of CSE and AI & Data Science, Velammal Institute of Technology, Anna University, Chennai. June 2021.
Professional Memberships:
National Registered Trainer with ICAI for conducting Training on Reading Strategies and Comprehension. Articulation Skills, Business Communication, Writing Skills by WIRC – TheInstitute of Chartered Accountants of India (ICAI)
Life Member: Indian Society for Training and Development, (ISTD) New Delhi
Official Email Id: nishrin.pathan@nmims.edu
Office Phone No: 022- 42355762